What are Custom Bezel Engagement Rings and 4 Reasons Why You Should Get It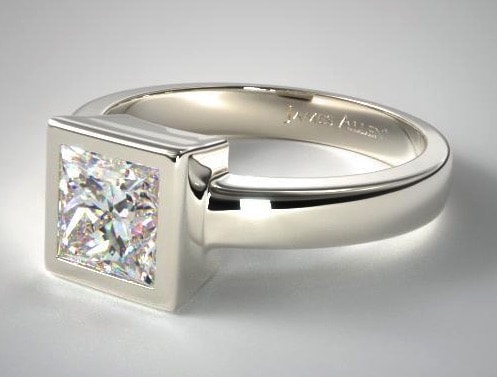 If you are planning to purchase a special engagement ring that is something unique and one of a kind that you can't seem to find on jewelry stores then, what you need is a custom bezel engagement ring.
A special someone deserves to be shown that they are loved, what could be more special to give them than something custom made? If you fancy the bezel look and want your ring to be customized according to your tastes then here below are 4 reasons why you should consider precious custom bezel engagement rings.
What is a Custom Bezel Engagement Ring?
A custom bezel engagement ring means that you can customize the style of the bezel design on your ring. The bezel setting is when a custom-made thin metal secures a piece of diamond or gem inside, showcasing the beauty of the diamond or gem. The bezel setting can be a round cut or a princess cut in any metal you prefer, white gold, yellow gold, rose gold or platinum.
A bezel setting is a wise choice for those who do not want the diamond or gem on their ring exposed like the prong setting, the bezel encircles the stone and secures it in place to avoid damage or loss. This design may be for you if you want security in your engagement ring yet having a sleek and modern design.
4 Reasons Why You Should Consider Custom Bezel Engagement Rings
Custom-made to your style
One of the advantages of getting a custom-made bezel engagement ring is that you can design and choose whatever you like. There is no end to the freedom on what kind of shape, metal or size the ring will be. You can even choose a partial or full bezel setting.
A full bezel setting is when a thin metal band whether it be white or yellow gold, platinum or rose gold completely surrounds the diamond like a halo. In the partial bezel setting, two sides of the diamond are exposed but with the other two sides secured as well with a thin metal band of your choice.
If you want something special over any other ring found in many jewelry stores then you should opt to get custom engagement rings. A special custom ring is suitable for a special person as you are part of the process of creating an engagement ring that is unique.
You and your loved one can be part of the process together in choosing the design and features of the ring making the ring extra special.
A secured and safe fit
If you tend to damage and lose things easily then choose for a bezel setting engagement ring. A bezel setting keeps the gemstone secured as much as possible as opposed to a prong setting. A prong setting does not have a metal ring surrounding the diamond leaving it exposed.
If you want your ring extra secure choose a full bezel setting where it surrounds the gem in its entirety however, if you want to secure the ring but do not want the look of the full setting you can instead choose for a partial bezel setting where it only covers two sides of the stone.
Due to a metal band surrounding the gem, the gem is more safe from it becoming loose. In a prong setting, if you lead an active lifestyle, a gem can catch or snag on trees or clothing. The band also protects the stone from impact from a bump or fall from a hard or hot surface. Thus, helping the diamond retain its shape and condition for a long time.
Low in maintenance
The bezel setting is perfect for people who do not have the time for their engagement ring to be cleaned or the gem to be reset. The practical yet modern design of the bezel setting makes it easy for the gem to stay secure and safe thus saving you money on going to a jeweler to have the prongs reset or check if it becomes loose.
Perfect for your budget
A custom ring means you can choose what kind of gem or metal your engagement ring will be. If you can not find the special ring at jewelry stores then what better thing to do than have it made to suit your budget.
You can choose what carat the stone will be or choose the band based on the cost of the material. You can also add a special message to be engraved on the ring to make it extra special and unforgettable.